Storage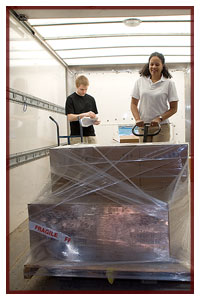 Harborlite Distribution Corp. started in 1982, offers trucking, warehousing, pick/pack and distribution services on a personal, customized basis, designed to satisfy your systems and requirements.
Our warehouse is an 80,000 square foot modern facility open on a 24hr basis 5-6 days per week. Including computer tracked inventory, daily faxed inbound and outbound information; and prompt order shipment.
Harborlite Security Procedures and Building Specifications
We are pleased to inform our customers of our ongoing security procedures that are maintained at all times in our Hillborough New Jersey shipping and storage facility :
A. Central Station Security
All alarms are audible and immediately notified to Certified security dispatch station.
Certified immediately notifies appropriate emergency service (police, fire, ambulance and etc.)
Certified immediate notifies the Harborlite "on call officer"
B. Building Security
1. Working Hours
All emergency exit doors alarmed 24 hrs / 7 days
All operational doors monitored by CCTV
Yard completely gated and monitored.
2. Off hours
All doors alarmed.
Motion detectors and Inferred beams activated.
Yard completed gated and monitored.
CCTV remains active.
C. Personnel Security
All employees and drivers must enter and exit though main office.
Any purses or bags brought into facility must be clear and are subject to inspect by management.
All visitors or customers must be accompanied by a Harborlite employee while inside the facility.